Healthcare Performance Management
What is Performance Management?
Performance Management has been described as the discipline of setting goals; establishing responsibility, accountability, and monitoring; analyzing outcomes; implementing governance; and ultimately, improving performance. There are common measures of performance within and across different organizations and industries, but fundamentally, they must be closely aligned with an organization's strategic objectives.
The Performance Management pyramid shows the relationship between strategic planning and performance management: the latter are processes, measures, and actions to help ensure that the vision, strategy, and goals set by the organization are achieved.
In healthcare, Performance Management is particularly critical in delivering high quality, cost-effective services:
Patient outcomes, including health, quality of life, and mortality, are directly related to performance; and,
The complexity, variability, and cost inherent in delivering healthcare services make it difficult to simultaneously prioritize A) time spent on performance tracking by front-line providers and employees, B) investments in performance management by senior management, and C) investments in activities that seem to more directly improve patient care.
The second reason may be why Performance Management is commonly accepted as "good principle," but often falls short in improving organizational outcomes.
What are the Different Uses of "Performance Management?"
While the term Performance Management is often used in many different contexts, this article focuses on organizational performance management. Other uses are not covered by this article, but are listed below:

Discipline of setting goals; establishing responsibility, accountability, and monitoring; analyzing outcomes; implementing governance; and ultimately, improving the organizational performance and outcomes.
Alignment of resources and systems with strategic objectives.
Other uses are not covered by this article, but examples include:

Goal-setting, evaluating, monitoring, coaching, developing, training, rewarding, and reviewing performance of individuals and/or teams.
Overlaps significantly with Organizational Performance Management, and the terms are sometimes used interchangeably. In some cases, these terms are used to refer to the definition, collection, and analysis of specific key performance indicators and metrics.

Can be used to refer to the technology performance of the overall organization or of individual technology resources, within the larger business entity.

Refers to the evaluation, monitoring, analysis, and reporting of technology components and systems. This generally encompasses the processes and the tools used to monitor and report on technical performance.
What are the Benefits of Performance Management in Healthcare?
Performance Management helps healthcare organizations ensure that their goals are consistently met in an effective and efficient manner. More specifically, it can help them achieve goals in areas such as patient-centered care, accountability, quality, cost management, and data management. The U.S. Department of Health and Human Services lists the following as "typical circumstances of why an organization may choose to measure its performance":
Distinguish what appears to be happening from what is really happening
Establish a baseline; i.e., measure before improvements are made
Make decisions based on solid evidence
Demonstrate that changes lead to improvements
Allow performance comparisons across sites
Monitor process changes to ensure improvements are sustained over time
Recognize improved performance
Through the process of building and executing a Performance Management Plan, organizations often establish and continuously refine metrics and standards, reporting, budgeting, and governance.
For example, an organization that establishes increased patient volume without increasing wait times as one of its strategic goals may need to:
Ensure that its data collection efforts adequately measure the attributes needed to accurately determine patient volume and wait times;
Determine the resources required for monitoring and reporting;
Design and implement process changes and stand up both human and technological capital to perform the reporting activities;
Carefully plan and manage the organizational changes which might be required; and,
Review its Data and IT Governance structure to ensure successful oversight and accountability for the entire process.
Thus, Performance Management goals need to align with both an organization's strategic goals as well as with its current and future capabilities. Often, a Performance Maturity Model (PMM) is used to communicate an organization's current Performance Management capabilities, and to define its future goals for Performance Management improvement. There are many models available, but most are adapted from the classic Capability Maturity Model: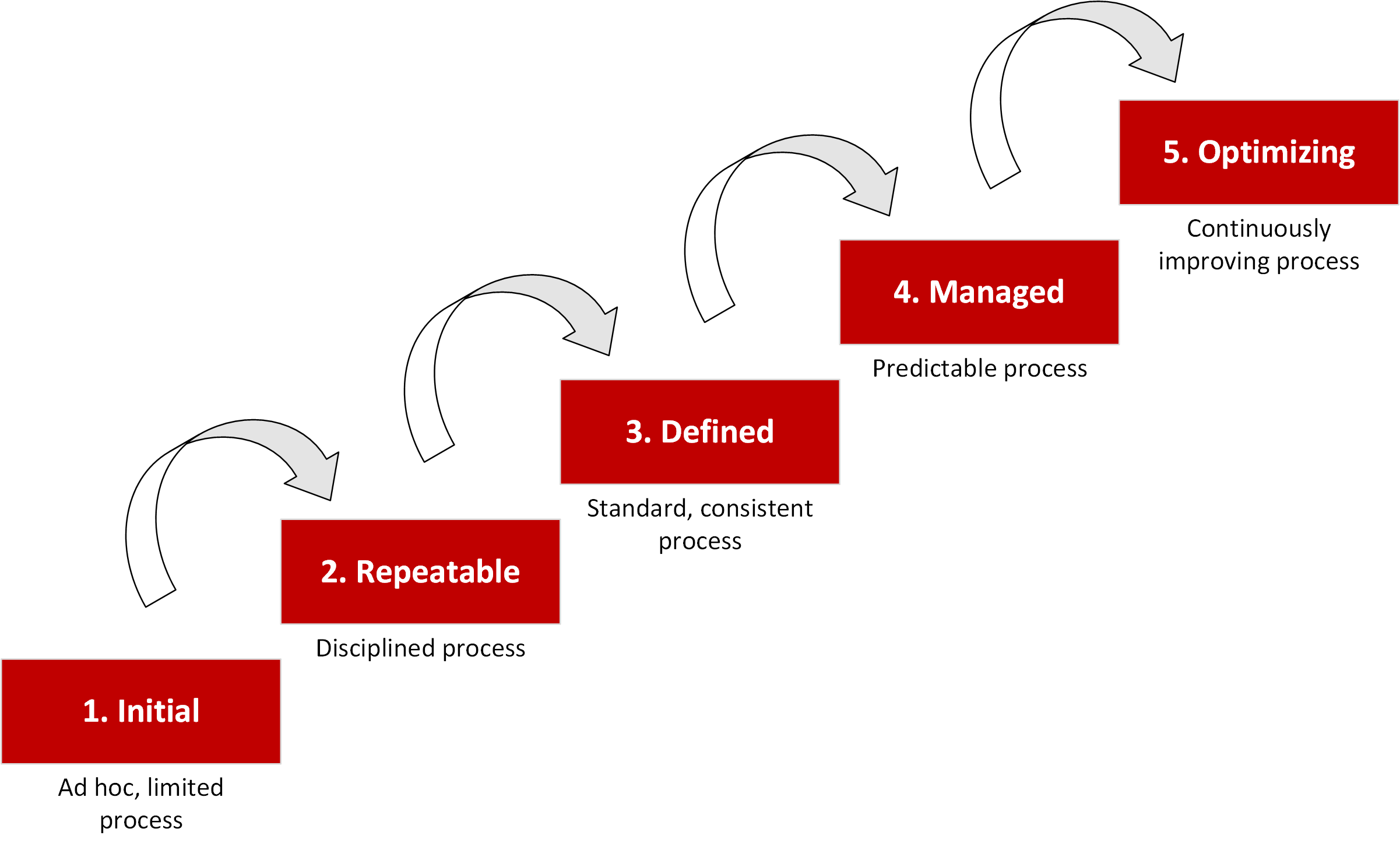 + Tap on image to expand.
A Maturity Assessment is usually completed by an independent team, such as outside consultants or a separate group within the organization that focuses on assessment and analysis.
Finally, there may be additional motives for a healthcare organization to measure its performance:
Accreditation: Government-accrediting organizations and funding sources rely on performance measure to prove resources are used effectively and efficiently.
Fundraising: Fundraising success is increasingly tied to documented performance measures.
Transparency: Stakeholders such as patients and payors increasingly want to see additional measures of the quality of care being provided.
How Do I Know What Performance Aspects to Focus On?
Performance measurements should be a good indicator of progress towards a strategic goal, and should be realistic and reasonable given the current capabilities of the organization.
As an example, a large hospital system will typically look at many performance measures across different service and care areas to meet regulatory reporting requirements and internal organizational goals. Examples of potential performance measures include: 
Selected Hospital Performance Measures
Measures:
– Methicillin-resistant Staphylococcus Aureus (MRSA) Blood Laboratory-identified Events (Bloodstream infections)
– Clostridium difficile (C.diff.) Laboratory-identified Events (Intestinal infections)
Rationale:
Medicare requires reporting on infection events. However, the metric definitions may be disadvantageous to hospitals where a large proportion of admitted patients already have the infection.
Measures:
– Average (median) time patients spent in the emergency department before they were seen by a healthcare professional
– Average (median) time patients spent in the emergency department before leaving from the visit
– Average (median) time patients spent in the emergency department, after the doctor decided to admit them as an inpatient before leaving the emergency department for their inpatient room
Rationale:
These measures may influence patients' choice of providers.
Measures:
– Patient survey summary star rating.
– Patients who reported that their doctors "Always" communicated well
– Patients who reported that their pain was "Always" well controlled
– Patients who reported YES, they would definitely recommend the hospital
Rationale:
These measures may influence patients' choice of providers.
Measures:
– Rate of readmission after discharge from hospital (hospital-wide), 30-day
– Falls (all registered patients)
– Falls with Injury (anyone on hospital grounds)
– Hand Hygiene Compliance
Rationale:
There are often monetary penalties for failing to meet required performance measures.
What Happens in a Performance Management Assessment?
A Performance Management Assessment could be used in at least two contexts:
An evaluation of the organization's overall performance, focusing on areas of competence, areas for improvement, and potential risks.
An assessment of an organization's Performance Management capabilities, focusing on its historical track record and planned capabilities in identifying performance objectives, measuring performance, managing the benefits and outcomes of performance measurement and improvement.
In both cases, primary and secondary data is gathered through stakeholder interviews and artifact reviews, followed by in-depth analysis and evaluation. The assessment is an iterative process, with the assessment team and the organization's management team working together to identify assessment objectives, reconcile findings with expectations, and formulate recommendations and an improvement plan. The assessment team may continue to be involved in implementing, monitoring, and improving the performance plan.
I'm interested in knowing more about performance management in my organization. How do I get started?